Greenways for Nashville is a non-profit organization raising awareness of and private support for Nashville's greenways initiative. GFN works in partnership with the Metro Parks Department and the Greenways Commission to connect Nashville the green way.
Super Cool Fun Fest
Saturday, May 28, 2016
The 2nd Annual Super Cool Fun Fest is Saturday, May 28, 2016 from 4:00pm – 9:30pm at Cumberland Park and benefits Greenways for Nashville. The event features a 90's theme. My So Called Band will be playing all of the best music from the 90's. There will also be games and Nashville's most popular food trucks for your enjoyment. Come celebrate the 90's and support Greenways for Nashville! For more information and to buy tickets for the event, click here.
Dinner on the Bridge
Thursday, September 29, 2016
Save the Date for our annual fundraiser, Dinner on the Bridge. This evening celebrates greenways and brings us together on the John Seigenthaler Pedestrian Bridge. Enjoy this exclusive experience with a front row seat to Nashville's beautiful downtown skyline. Tickets sell out fast, so be on the lookout for more information coming in July.
Follow us on Social Media
Facebook
Greenways for Nashville
May 27th, 2016 at 11:46pm
Vanderbilt Health
"You can find one nearby / Let's enjoy the sunny skies!" Have you walked or biked any of Nashville's Greenways? (Did you spot the mayor, a mascot or a wallaby?) Visit during the this holiday weekend. Greenways for Nashville
http://spr.ly/6180BqoSM
6 View on Facebook
Twitter
RT @VUMCchildren: Love this rap from @Greenways4Nash Happy trails this holiday weekend, Nashville! https://t.co/lfoQFahczQ https://t.co/7Zv…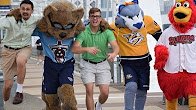 Subscribe To Our E-Newsletter
To sign up to receive our emails, fill in the following fields and hit subscribe, Thanks, and welcome!